Power and data mix: multipole low-voltage configurations enhance miniature and multifunctional connectivity
June 28, 2023 · 2 min read
Fischer Connectors continues to develop its offering of hybrid connectors with mixed power and signal contacts.
Our product portfolio includes three new multipole low-voltage configurations within the Fischer Core Series in brass, our historic push-pull product line renowned worldwide for its versatility and high customization capabilities.
Mixed contact configurations provide design engineers and end-users with several benefits in terms of reliability, multi-tasking comfort, and integration.
Combining power and data transfer in a single connection allows the number of operations and connections for end users to be decreased, which also allows them to set up and utilize their device quickly, easily and safely. Design complexity is reduced as fewer parts or components are required, contributing to efficient device size management and enabling an overall sleeker design.
The size and power/data configurations of the new multipole low-voltage Fischer Core connectors enable engineers to design compact industrial and medical devices with enhanced usability and functionality.
For example, medical instruments which are held by practitioners or installed in confined spaces; devices in hospitals and some industrial environments which are exposed to tough operating conditions such as sterilization, vibration, intense handling; or central processing units (CPUs) and program settings with complex power and data requirements for medical handpieces, or sensor data capture in industrial equipment.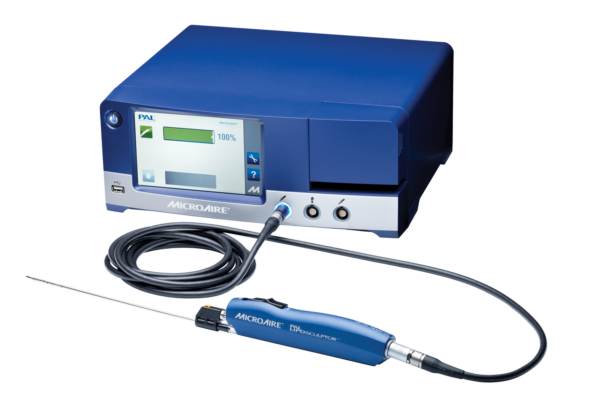 PAL (Power-Assisted Liposuction) System from MicroAire Surgical Instruments utilizes a motorized cannula that gently vibrates back and forth to loosen fat tissue to be suctioned, resulting in less bruising and swelling, reduced surgeon fatigue, and faster procedure and patient recovery than traditional liposuction methods. It features Fischer Core low-voltage connectors with a mixed configuration of 12 contacts (3 power, 9 data) and a 12-feet silicone overmolded cable assembly resisting autoclave.
Designed and tested to meet the highest quality and reliability standards in the industry, the new mixed multipole low-voltage connectors from the Fischer Core Series resist 10,000 cycles mating cycles minimum, corrosion (salt mist, 1,000 hours, 5% salt solution, 35°C) and autoclave sterilization.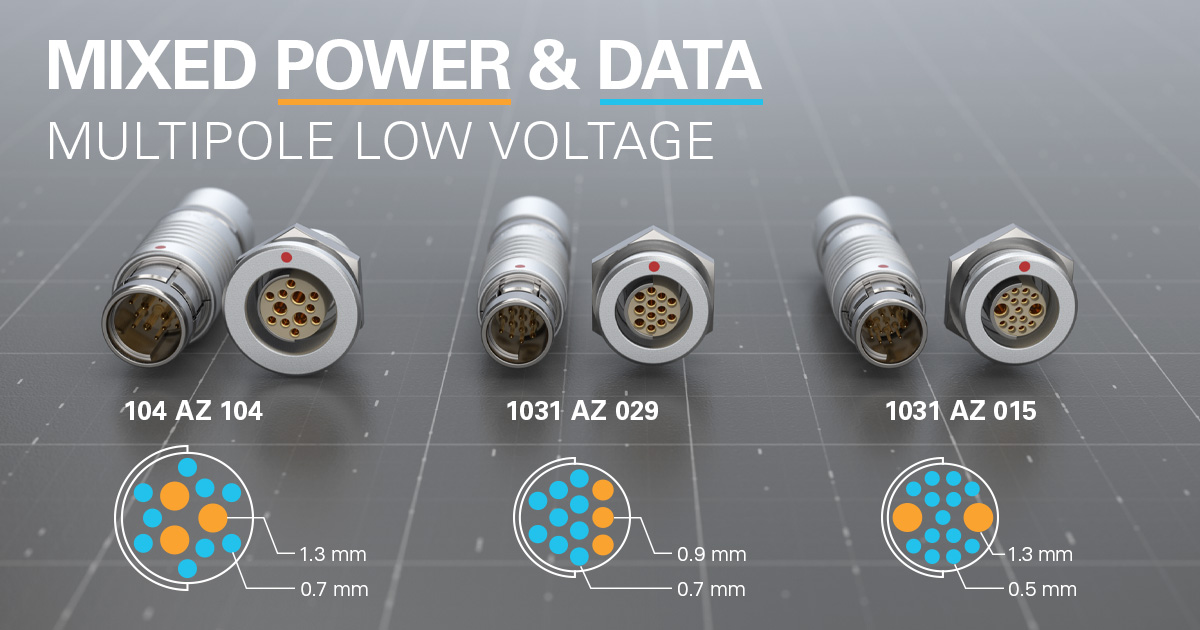 The new offer of power and data mixed multipole low-voltage configurations from the Fischer Core Series in Brass (left to right with Fischer Connectors' references): size 104 AZ 104 and size 1031 AZ 029 with 12 contacts (3x power of 1.3 mm for size 104 / 0.9 mm for size 1031 + 9x data of 0.7 mm); size 1031 AZ 015 with 15 contacts (2x power of 1.3 mm + 13x data of 0.5 mm).
Next news
New interoperability and device integrations enhance Fischer KEYSTONE™ soldier-worn hub
June 28, 2023 · 4 min read